INTERNATIONAL FELLOWSHIP MEETINGS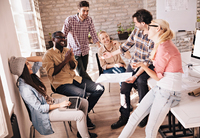 International Fellowship services (English) are happening mostly last Sunday of
the month at 3pm.


We warmly invite people from different countries and language groups to come together for fellowship, worship and Bible teaching.

International fellowship meetings are held in English but interpretation into the other languages is possible. If you don´t speak any English, we will try to find some other way to communicate :) Also there is attending Finnish people. So please be brave and join the international nice group! We wish to see you :)

International Fellowship meetings of Autumn 2021 on the following dates at 3 pm.:

31st of October
Speech: Outi Rossi
Music leading and testimonies: sisters and brothers from Kongo
Hosted by Myrtle Grimm-Turunen

28th of November
Christmas celebration at 3pm.
Christmas message, songs and delicacies. Everybody welcome with friends. 🎄💖🎄

December
No meetings

Place of gathering :
Salo Pentecostal Church
Mököistenkatu 18
24100 Salo

More information
If you need more information or just have a friend, just send an email hseppanen8@gmail.com

You are warmly welcome!