INTERNATIONAL FELLOWSHIP MEETINGS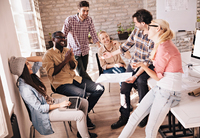 We warmly invite people from different countries and language groups to come together for fellowship, worship and Bible teaching. Every time it is possible to make new friends and have a cup of tea :)

International fellowship meetings are held in English but interpretation into the other languages are possible. Don´t be afraid about the language things. If you don´t speak any English, we will try to find some other way to communicate :) Also there is attending Finnish people. So please be brave and join the international nice group! We wish to see you :)

International Fellowship meetings of Spring 2020 on the following dates at 4 pm.:

23rd of February
Speech: Myrtle Grimm-Turunen: God´s calling for our lives
Worship leading: Salo-Tammisaari international worship team
Hosted by Seppo turunen
Tea and Fellowship <3

Dear Friends, all activities at the Church has been stopped for a while because of corona virus. You can whatch Sunday services from the front page.
As soon as the situation is over, we will continue International Fellowships. May God bless you and your family <3

If you need more information, just send an email to seppaset@hotmail.com

Place of gathering :
Salo Pentecostal Church
(Salon helluntaiseurakunta)
Address: Mököistenkatu 18, Salo
We warmly welcome everybody!